Cloudflare Blocks Kiwi Farms Messaging Board From Internet Services
Major cybersecurity software provider Cloudflare on Sept. 3 blocked messaging board Kiwi Farms, citing an "unprecedented emergency and immediate threat to human life."
In a statement on the company's blog, Cloudflare co-founder and CEO Matthew Prince said that "[v]isitors to any of the Kiwifarms sites that use any of Cloudflare's services will see a Cloudflare block page and a link to this post."
"Kiwifarms may move their sites to other providers and, in doing so, come back online, but we have taken steps to block their content from being accessed through our infrastructure," he wrote.
As of late Saturday, an error message appeared on the Kiwi Farms website saying: "Blocked: Due to an imminent and emergency threat to human life, the content of this site is blocked from being accessed through Cloudflare's infrastructure."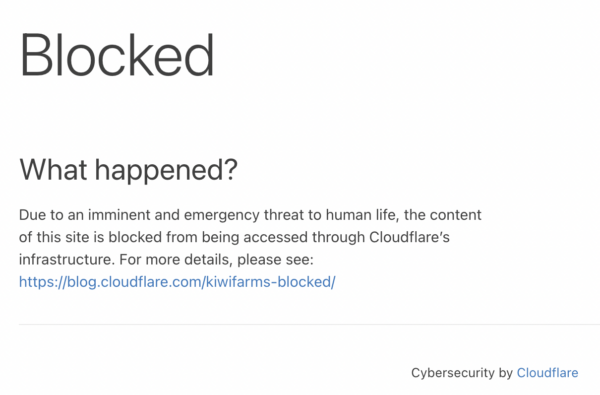 "This is an extraordinary decision for us to make and, given Cloudflare's role as an Internet infrastructure provider, a dangerous one that we are not comfortable with," Prince said.
"However, the rhetoric on the Kiwifarms site and specific, targeted threats have escalated over the last 48 hours to the point that we believe there is an unprecedented emergency and immediate threat to human life unlike we have previously seen from Kiwifarms or any other customer before."
Prince also said on Twitter that the threats had escalated "in spite of proactively working with law enforcement" such that "it became enough of an imminent emergency we could no longer wait for them to act."
Kiwi Farms is an internet forum that's been known to be used by people to harass others. It was originally set up as "CWCki Forums" in 2013 before its current name was adopted in 2014. The "CWC" stands for the initials of a person who was first noticed in 2007 posting comic art on another internet forum, 4chan. Kiwi Farms had been launched originally in efforts to harass the individual.
Campaign to Drop Kiwi Farms
Clara "Keffals" Sorrenti, a Canadian Twitch streamer and political activist, started the #dropwikifarms campaign after she faced continued harassment by users on the site.
In a Twitter post on Aug. 18, Sorrenti had shared about how her hotel location was doxxed after she left her home on Aug. 5 following a swatting incident. "Things are escalating, and now I am in hiding. I need everyone to share this as widely as possible. I am scared of what is going to come next," she shared at the time.
Late Sept. 3, the campaign responded to the block, saying it was "happy" with Cloudflare's decision.
"Today Cloudflare has dropped the notorious far-right hate forum Kiwi Farms … Kiwi Farms has been around for over a decade, and at no point in the site's history have they come under this much fire," the statement from the #dropwikifarms campaign reads. "This is a historical moment where thousands of people have stood up and taken a stance against online harassment and hate."
"While we should celebrate today, this may not be the end of their community … if we continue to stand together and fight back, we can see this until the end," campaign organizers said, adding, "As long as websites like Kiwi Farms remain active, we'll keep fighting."
Threat to Human Life Cited
Prince acknowledged that a "pressure campaign" had begun about two weeks ago "with the goal to deplatform Kiwi Farms." The same pressure campaign had also targeted Cloudflare and other providers that Kiwi Farm used, he noted.
But Cloudflare is "not taking this action directly because of the pressure campaign," he said of the block.
"[W]e are committed as a security provider to protecting our customers even when they run deeply afoul of popular opinion or even our own morals … We continue to believe that the best way to relegate cyberattacks to the dustbin of history is to give everyone the tools to prevent them.
"However, as the pressure campaign escalated, so did the rhetoric on the Kiwifarms site. Feeling attacked, users of the site became even more aggressive. Over the last two weeks, we have proactively reached out to law enforcement in multiple jurisdictions highlighting what we believe are potential criminal acts and imminent threats to human life that were posted to the site."
Prince said that while Kiwi Farms "has frequently been host to revolting content," that alone "does not create an emergency situation that necessitates the action we are taking today." He cited the "imminent and emergency threat to human life which continues to escalate" as the reason for blocking Kiwi Farms.
Prince said the blocking of Kiwi Farms is a "hard case," adding, "we would caution anyone from seeing it as setting precedent."
"For an infrastructure provider like Cloudflare, legal process is still the correct way to deal with revolting and potentially illegal content online," Prince said.
He added that Cloudflare does not believe that terminating security services is appropriate "even to revolting content."
"In a law-respecting world, the answer to even illegal content is not to use other illegal means like DDoS attacks to silence it."
His message echoed a lengthy statement that the company had posted on Aug. 31 outlining its abuse policies and approach.
No Discussion Prior to Block
Kiwi Farms owner Josh "Null" Moon said in a statement on Telegram late on Sept. 3 that Cloudflare's decision to block the site was "done without any discussion."
"The message I've received is a vague suspension notice. The message from Matthew Prince is unclear. If there is any threat to life on the site, I have received no communication from any law enforcement," Moon said on Telegram.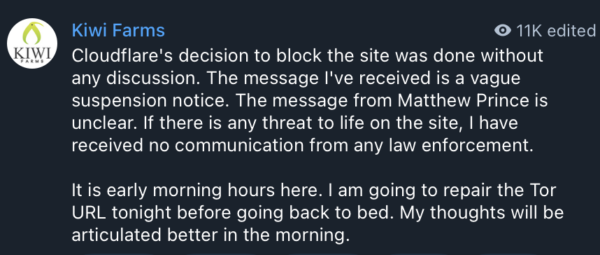 "It is early morning hours here. I am going to repair the Tor URL tonight before going back to bed. My thoughts will be articulated better in the morning," he added, before posting alternative links to Kiwi Farms.
"I currently have no words for the Cloudflare issue. I will think of what I want to say when I wake up," Moon wrote late on Sept. 3 on the front page of the messaging board, which was accessible via the alternative links he had posted on Telegram.
From The Epoch Times